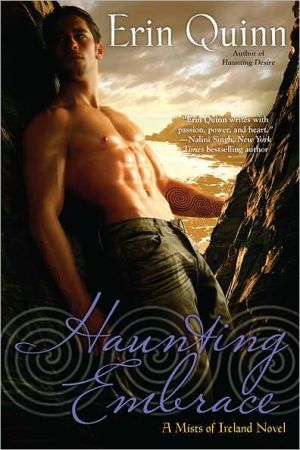 ENDLESS LOVE


Within Meaghan Ballagh surges the blood of an ancient sorceress whose long ago love for the druid Áedán ended in treachery—a fate that ensnares Meaghan herself when she is thrust into the past. She can feel the desire between the sorceress and the handsome druid rise inside her. To ensure her survival, she must piece together the history of the woman who haunts her and the man who needs her.



ETERNAL BETRAYAL


Áedán recognizes Meaghan. He always will. For the spirit of his one true love—and immortal enemy—is in her. A woman for whom Áedán once risked everything he ever had only to be repaid with betrayal and eternal damnation. This time, he's not going to let Meaghan escape—because together they have the power to change their destiny.

As the passion between them grows, so do their fears of arousing an ancient, haunted, and forbidden love, and for changing a past that could irrevocably destroy the future.



Order Haunting Embrace:

A Mists of Ireland Novel #4
Trade Paperback - October 2011
Berkley Sensation
ISBN-10: 0425243133 ISBN-13: 978-0425243138












"This is beautifully written. One of the pure joys of reading a Quinn novel is the incredible visual nature of her writing. Readers are automatically transported to whatever magical world she's created. Haunting Embrace, a Mists of Ireland book, is well, haunting. It's also lovely and a thoroughly entertaining read." RT Book Reviews

5 out of 5 stars: "In HAUNTING EMBRACE we return to the realm of the heart and mind; where it all began with HAUNTING BEAUTY. There are twists, turns and revelations that, in all honesty, floored me. The tension holds right through as you race to the very end. I wouldn't change a thing." Manic Readers

I simply adore this series. Ms. Quinn has such a beautiful, lyrical prose to her writing that instantly sets you at ease among the magic and mystics of ancient Ireland. The world building is lush, layered, and wonderfully complicated. Haunting Embrace is a dark emotionally charged epic adventure filled with love, betrayal, forgiveness, and sacrifice." Smexy Books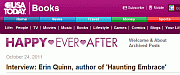 "The characters are so richly developed and connected that I felt as if I were looking down on them, able to see them in vivid detail. The loose ends are wrapped up nicely, nothing is too sappy, and I can say that this is a time-swept paranormal romance series that should be on every romance lover's shelf." USA Today Books H*E*A

"HAUNTING EMBRACE's complex storyline, its multi-faceted foundation of myth and magic, intense emotional drama, and the hopeful redemption of a villain — the MISTS OF IRELAND series is going out with a bang." Romance Junkies

"I give Haunting Embrace by Erin Quinn 5 out of 5 Modokker Book Pick stars. What I have always liked about this series of books is the unpredictability of the stories. They take you on a winding road and you never know where the twists and turns are going to be. If you like that in a book this series if for you." Modokker Book Picks